WN6AF, WN9AF - Frost protected down to -30 °C and fluorine free
Economy Line
The DÖKA permanent pressure water fire extinguishers are equipped with an extinguishing agent cylinder made of quality sheet steel. The high-quality outer polyester resin coating is tough and weatherproof and protects the extinguishing agent container from corrosion. Inside, the extinguishing agent container is protected from corrosion by a thermoplastic polymer inner coating. The metal fitting with pressed brass body is equipped with a pressure gauge and a separate test valve.
Aqueous solution
The extinguishing effect is based on the heat binding capacity (heat capacity) of the water. The seat of the fire is cooled down considerably and the combustion is stopped. The extinguishing agent consists of water with and the addition of salts. This means that our water fire extinguishers are frost-proof down to -30 ° C. The extinguishing agent is completely free of PFOS and PFOA.
Capacity: 6 ltr. Aqueous solution
Rating: 13A
Dimensions H x W x D ca. mm: 525 x 270 x 170
Weight ca. kg: 10,5
Throw range ca. m: 4-6
Discharge time ca. Sek.: 54
Operating temp. °C: -30 to +60
MED 2014/90/EU: No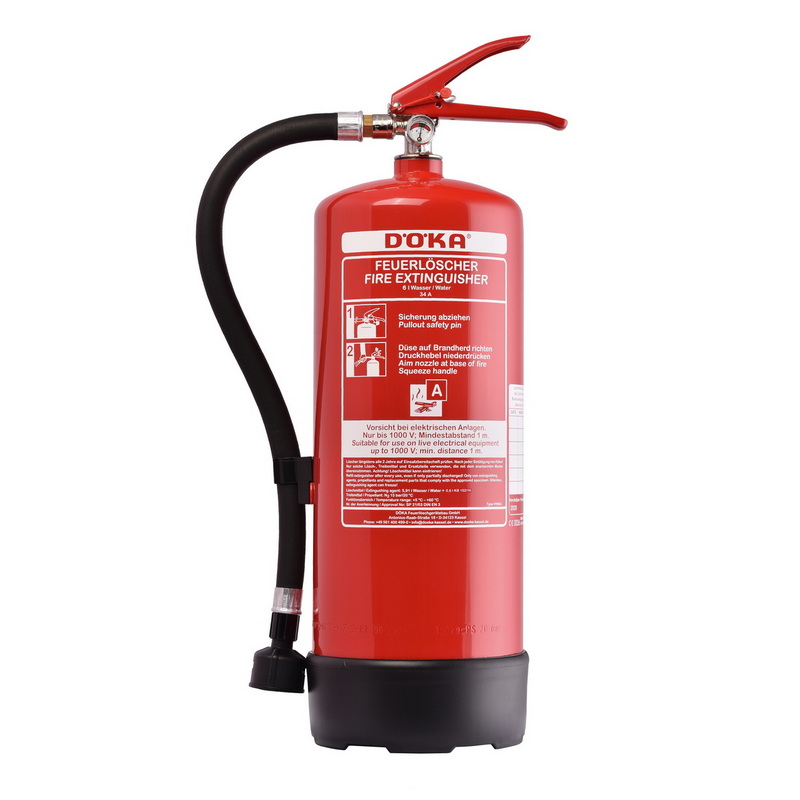 Pressure lever valve with brass body, manometer and test valve
Nickel-plated brass fittings, the handle and the pressure lever are made of powder-coated steel. A manometer shows the functionality of the fire extinguisher at all times. A separate test valve simplifies service.
Extinguishing agent cylinder
Other water fire extinguishers