SN6TAF, SN9TAF - Frost protected down to -30 °C
Economy Line
The DÖKA permanent pressure foam fire extinguishers are equipped with an extinguishing agent cylinder made of quality sheet steel. The high-quality outer polyester resin coating is tough and weatherproof and protects the extinguishing agent container from corrosion. Inside, the extinguishing agent container is protected from corrosion by a thermoplastic polymer inner coating. The metal fitting with pressed brass body is equipped with a pressure gauge and a separate test valve
Extinguishing agent foam
Frost-proof foam extinguishing agent, can be used down to -30 °C.
The fire extinguishing agent foam is created from a water / foam agent mixture by adding air. In the case of fires involving solid substances (fire class A), the high network effect combined with the interruption of the gas exchange and the cooling effect result in the excellent extinguishing properties.
Foam extinguishing agents work by covering the entire surface of flammable liquids with a vapor-tight foam blanket, which prevents the entry of oxygen (sticking effect) and cools the surface (cooling effect).
Fire class A, combustible solid materials
such as wood, car tires, textiles
Fire class B, flammable liquids
such as alcohols, petrol, paint, oil
Electrical systems
Up to 1.000 V, minimum distance 1 meter
Areas of application
Indoor and outdoor areas with special requirements on the frost resistance of the foam compound, such as cold rooms, sensitive machines in the outdoor area, mobile homes
Capacity: 6 ltr. foam
Rating: 34A / 144B
Dimensions H x W x D ca. mm: 525 x 270 x 170
Weight ca. kg: 10,4
Throw range ca. m: 4-6
Discharge time ca. Sek.: 22
Operating temp. °C: -30 to +60
Environmental info
Extinguishing agents contain perfluorinated and polyfluorinated substances (PFAS).
We have compiled further information on this topic on our info page: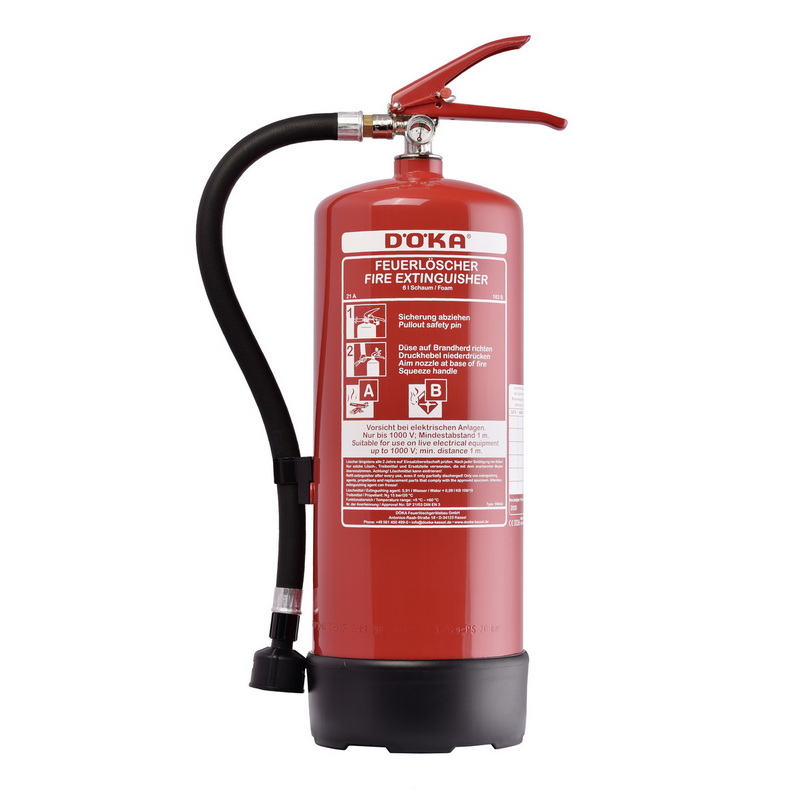 Pressure lever valve with brass body, manometer and test valve
Nickel-plated brass fittings, the handle and the pressure lever are made of powder-coated steel. A manometer shows the functionality of the fire extinguisher at all times. A separate test valve simplifies service.
Extinguishing agent cylinder
Hose and extinguishing pistol
Other foam fire extinguishers