The DÖKA carbon dioxide fire extinguishers KS2CS-1 and KS5CS-1 have an extinguishing agent container made of steel. The high-quality polyester resin coating is tough and weatherproof and protects the extinguishing agent container from corrosion. The all-metal fitting consists of a base body made of nickel-plated brass and a lever set made of steel, which is powder-coated to protect against corrosion. For mounting on the wall, these fire extinguishers are equipped with a steel strap as standard.
Carbon dioxide
Carbon dioxide (CO2) is a colorless and odorless gas. It is about 1.5 times heavier than air and is contained in the air we breathe. It is popularly called carbonic acid and it is used for many other applications. The extinguishing effect of carbon dioxide is based on the sticking effect.
Residue-free
After extinguishing, carbon dioxide leaves no extinguishing agent residues, it evaporates completely without leaving any residues.
Capacity: 2 kg carbon dioxide
Rating: 34B
Dimensions H x W x D ca. mm: 490 x 245 x 125
Weight ca. kg: 6,6
Throw range ca. m: 3
Discharge time ca. Sek.: 8
Operating temp. °C: -30 to +60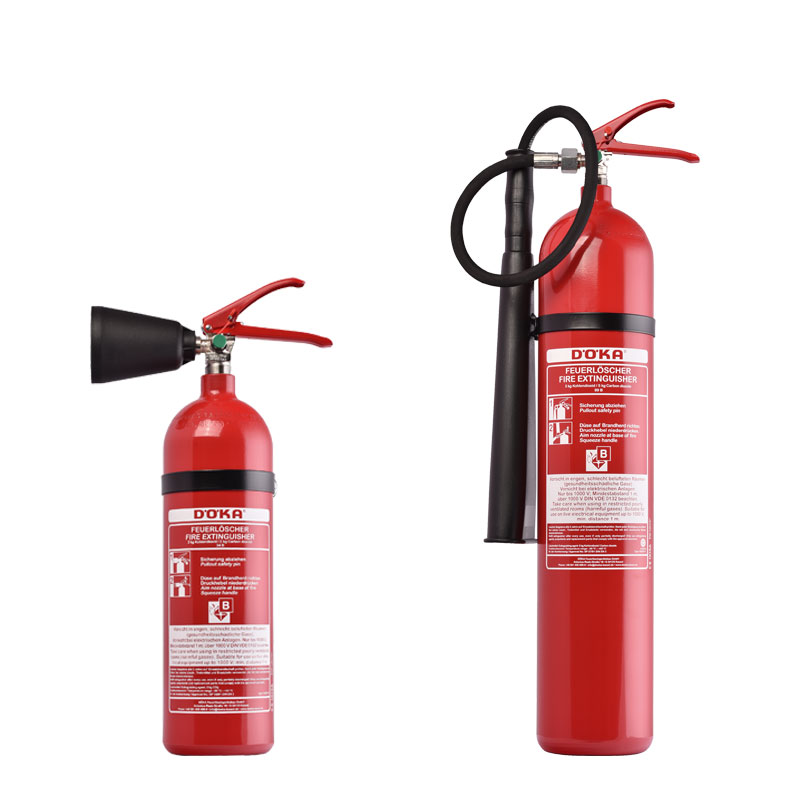 One-piece fog funnel at KS2CS-1
High-quality hose line at KS5CS-1
Tension band for wall mounting
Pressure lever valve with brass body
Nickel-plated brass fittings, the handle and the pressure lever are made of powder-coated steel.
Extinguishing agent cylinder
Other CO2 fire extinguishers